Partnership agreement between Hockey Québec and Ball Hockey Quebec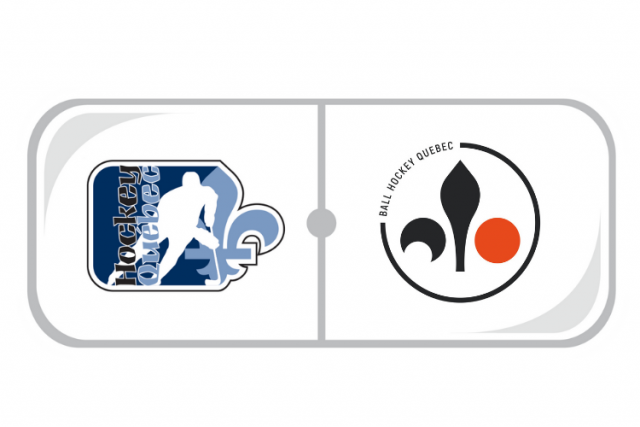 Mercredi 28 Juillet 2021
"We are very pleased with this new partnership with the largest sanctioned ball-hockey organization in Quebec. The agreement will allow us to increase our memberships and to collaborate with Ball Hockey Quebec to achieve our common goals. Our minor hockey associations will be able to offer a complementary service to ice hockey, which is great news for all our young people," says Hockey Québec president Mr. Yve Sigouin.
"It's a great moment in the history of Ball Hockey Quebec. With Hockey Québec becoming a partner, we will now be able to improve our organizational structure and further develop this great grass root sport.
Many NHL'ers, as youngsters, have credited ball hockey with the development of their skill levels. Our youngsters can now aspire to play at the provincial, national and international championships. The ultimate goal is to attain Olympic recognition. The work has already begun with the GAISF (Global Association of International Sports Federations)" says Mr. Tony Iannitto, President of Ball Hockey Quebec.
This new partnership offers Quebec minor hockey associations the opportunity to participate in sanctioned ball-hockey activities. In addition, Quebec will be represented at the national level with the establishment of Quebec Ball Hockey Teams.
For its part, Hockey Québec will work with its new partner to promote and increase the visibility of Ball Hockey Quebec. This agreement will be developed in accordance with Hockey Québec's strategic plan (2021-2024) and its program to support the development of excellence (PSDE). Ball-hockey / Dek hockey will thus be included in our Excellence Development Plan.
For Ball Hockey Quebec, this partnership ensures the development of ball-hockey and dek hockey for both adults and young players in the province (5 to 17 years old). To do so, Ball Hockey Quebec is committed to setting up a Team Quebec program in the U16, U18, U20 and Senior divisions for both men and women (3 teams per division).
About Ball Hockey Quebec
As its name indicates, Ball Hockey Quebec is the organization that oversees ball-hockey in Quebec. Its mandate also includes other names and variations of the sport such as Dek hockey and cosom hockey, and covers all its formats: 5 vs 5, 4 vs 4 and 3 vs 3. Our mission is to develop and promote ball-hockey in Quebec, by encouraging the participation of players in an inclusive manner in a positive and safe environment, at both recreational and competitive levels.
Ball-hockey is the direct descendant of street hockey and boot hockey, which has been played informally since the beginning of the 20th century. In 1995, the Quebec Ball Hockey Association (QBHA) was founded to provide a structure for this increasingly popular sport.
In its first year of existence, the QBHA sent a men's team to the Canadian Ball Hockey Association's National Championships and won its first ever gold medal. Since then, the sport has grown tremendously and the momentum shows no signs of letting up. In 2019, the QBHA got a makeover and became Ball Hockey Quebec.
As of today, Quebec men's teams have won 33 gold medals, all divisions combined (but more specifically div: A: 14, div. B: 7, div. C: 9, div. D: 3). For the women, despite a much younger program, they've won 5 gold medals (div. A: 2, div. B: 3). In addition to these great achievements over the past several years, the Quebec men's and women's teams have also won numerous silver and bronze medals as well.
Ball Hockey Quebec is the only Quebec association recognized by the Canadian Ball Hockey Association (www.cbha.com). The latter is an associate member of Hockey Canada and is part of the International Street and Ball Hockey Federation (www.isbhf.com).
About Hockey Québec
Founded in 1976, Hockey Québec's mission is to govern and provide leadership in the field of ice hockey in Quebec. The Federation prioritizes the development, promotion, application and follow-up of programs while encouraging the development of hockey players. It supports the work of more than 100,000 members, including players, administrators, volunteers, coaches and officials throughout Quebec.
-30-
For more information, please contact :
Tony Iannitto
President
Ball HockeyQuebec
François Lachance
Communications, Branding and Regional Support Coordinator
Hockey Québec
Cet article vous a plu ? Partagez le!
x
Terme d'utilisation Shark Média & Sport
L'ensemble du contenu de ce site est privé et purement informatif. Les droits du visiteur de ce site ne peuvent par conséquent pas provenir du contenu de ce même site. Ce site est exploité par et a été créé par SHARK MÉDIA & SPORT. Les données contenues dans ce site Internet sont la propriété intellectuelle de et sont protégées par des droits d'auteur. Ces données ne peuvent être copiées ni reproduites sans l'accord préalable de ou SHARK MÉDIA & SPORT sauf dans le cadre nécessaire à la consultation en ligne. Vous pouvez toutefois imprimer des pages entières du site pour des usages personnels. Pour en savoir plus sur l'utilisation de ce site veuillez communiquer avec SHARK MÉDIA & SPORT.